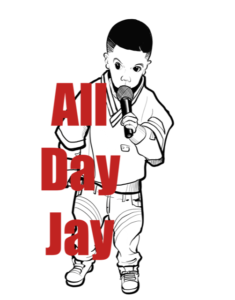 For artist, producer, athlete, and recent college grad, the moniker All Day Jay is not just a name, it's a motto, because Jay is on his grind, all day every day. Jay was born in Brownsville, Tn, but was raised in Freeport, IL. Jay's musical influence started early in life, as he has memories of playing on the studio floor as a preschooler, while his dad dropped rhymes on the mic. 
In high school, in addition to being a stand out athlete in football and track, Jay was bitten by the music bug when his dad finally let him touch his MPC2000XL drum machine. Jay formed a rap group made up of his best friends and fellow athletes named The Track Stars, for which he made the beats. The Track Stars got a little hood fame, but the group disbanded as they all went off to college in pursuit their athletic dreams.
In Jay's downtime from school and sports, he would make the drive to retreat to his dad's home studio and unwind making beats and recording songs. Jay's love for beats and the mic didn't go unnoticed by his dad. He asked me one day, with a smile on his face, "you're serious about this, aren't you?"  The next week Jay's dad showed up at his dorm room with a new drum machine, a keyboard, and a mic. "Now you can get your ideas out when the creativity strikes you, but you better not let your grades drop." 
Jay not only made the grades, but me made music also. Now a college grad, Jay is all in on his passion of beats and rhymes. The Pre Game EP is Jay first released project. As the name implies, Pre Game is Jay just getting started. Pre Game is just an introduction to more great music to come.  Look out world, here comes All Day Jay.